Reference Articles:
Tribulation Timeline (Part 2) ---New Window

Related Articles:
Commentary on Revelation Chapter 10 ---New Window

Commentary on Revelation Chapter 6 ---New Window

Babylon the Great (Part 4) Come Out of Her, My People ---New Window

Bible Promises Wisdom in the LORD ---New Window


.
"The LORD is with you,
while ye be with Him;

and if ye seek Him,
He will be found of you;

but if ye forsake Him,
He will forsake you"
(2Chronicles 15:2).
Definition:
Although Godís two Tribulation Week prophets successfully call down fire from heaven, in true apocalyptic fashion (Revelation 11:5), Israel will still be subjugated by Antichrist. The 6th Seal Judgment coincides with Moses and Elijahís calling down of fire.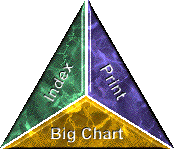 Big Chart - The tribulation timeline displayed all at once.



Index - An in-depth index of all topics displayed on the Big Chart, but in small chart form.



Print - It is recommended that you print out the Big Chart, to help you see an overview
easier, and for future reference.