Reference Articles:
Commentary on Revelation Chapter 8 ---New Window


Related Articles:
Commentary on Revelations Chapter 11 ---New Window

Babylon the Great (Part 4) Come Out of Her, My People ---New Window

Bible Promises Sanctification in the LORD ---New Window


.
"The LORD is with you,
while ye be with Him;

and if ye seek Him,
He will be found of you;

but if ye forsake Him,
He will forsake you"
(2Chronicles 15:2).
Definition:
The Seventh Seal Judgment (Revelation 8:1) will occur on this date. The silence in Heaven is more ominous due to what Jehovah is about to do, rather than breathless anticipation of Antichristís Abomination of Desolation.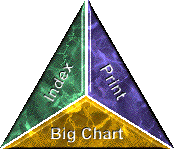 Big Chart - The tribulation timeline displayed all at once.



Index - An in-depth index of all topics displayed on the Big Chart, but in small chart form.



Print - It is recommended that you print out the Big Chart, to help you see an overview
easier, and for future reference.