Reference Articles:
Antichrist Shall Come ---New Window


Related Articles:
Escaping the Lie of the Serpent ---New Window

The Character of God Is Revealed in the Rapture ---New Window

Babylon the Great (Part 1) The Purpose and History ---New Window

Christ Is All ---New Window
Whatever problem or question you have in this physical life, Jesus is The Answer.


.
"The LORD is with you,
while ye be with Him;

and if ye seek Him,
He will be found of you;

but if ye forsake Him,
He will forsake you"
(2Chronicles 15:2).
Definition:
Antichrist desecrates Temple. The very idea of establishing an "image to the beast" (Revelation 13:14) is necessary for Satan to ultimately challenge the LORD of Hosts' legitimate position as the Most High. "That men may know that Thou, Whose name alone is JEHOVAH, art the most high over all the earth" (Psalms 83:18). In effect, the Abomination of Desolation is Satan's final attempt on Jesus Christ's throne. "So that he as God sitteth in the temple of God, shewing himself that he is God" (2 Thessalonians 2:4).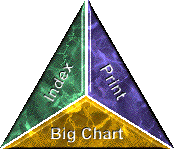 Big Chart - The tribulation timeline displayed all at once.



Index - An in-depth index of all topics displayed on the Big Chart, but in small chart form.



Print - It is recommended that you print out the Big Chart, to help you see an overview
easier, and for future reference.