A Voice from the Philadelphian Church Age
Charles Grandison Finney
1792-1875

Charles G. Finney: Apostle of the Philadelphian Church

GOD'S MAN TO REVIVE THE CHURCH IN THE MIDST OF THE PHILADELPHIAN AGE WAS CHARLES G. FINNEY. "O LORD, I have heard Thy speech, and was afraid: O LORD, revive Thy work in the midst of the years, in the midst of the years make known; in wrath remember mercy" (Habakkuk 3:2). Born in Connecticut state of the fledgling United States of America, and early raised in the wilderness frontier of Oneida County, New York, Finney represented the pioneering American spirit of his day. Trained as an attorney to the practice of law, he found himself hauled before the bar of the Judge of All the Earth (Genesis 18:25) and found wanting. He studied the Scripture references in his legal texts, which were (most probably) Sir William Blackstone's "Commentaries on the Laws of England" (1765)-- where Blackstone contended that all civil law received its validity from its conformity to the law of God.

Finney was powerfully converted to Christ in 1821 after long consideration of the claims of Christ upon him. "Just at this point the whole question of Gospel salvation opened to my mind in a manner most marvelous to me at the time. I think I then saw, as clearly as I ever have in my life, the reality and fullness of the atonement of Christ. I saw that His work was a finished work; and that instead of having, or needing, any righteousness of my own to recommend me to God, I had to submit myself to the righteousness of God through Christ. Gospel salvation seemed to me to be an offer of something to be accepted; and that it was full and complete; and that all that was necessary on my part, was to get my own consent to give up my sins, and accept Christ. Salvation, it seemed to me, instead of being a thing to be wrought out, by my own works, was a thing to be found entirely in the Lord Jesus Christ, who presented Himself before me as my God and my Savior" (excerpted from "An Autobiography"---New Window by Charles G. Finney).

Subsequent to his conversion, he gave up all attempts at a legal career, and endeavored to preach the Gospel. His theological training was conducted by his pastor, Reverend Gale, but he found much difficulty receiving the Old School Calvinism-- which Hyper-Calvinism he rejected. After his ordination, he immersed himself in the evangelistic work for which history best remembers him. Since the conversion of sinners must first be preceded by the awakening of Backslidden Professing Christians, Finney stressed the need for holiness in the Church, that would manifest itself in the powerful conversion of the Lost. "For the time is come that judgment must begin at the house of God: and if it first begin at us, what shall the end be of them that obey not the Gospel of God?" (1Peter 4:17). It would be difficult to estimate the number of subsequent Saints-- Jonathan Goforth, Watchman Nee, etc.-- who pointed to Charles G. Finney's "Revival Lectures"---New Window as a model of how the Church should promote revivals and seek the conversion of the Lost.

Keenly aware that sinners could not help but act in accord with their misunderstanding of Scripture, he said, "I felt it my duty to expose all the hiding places of sinners, and to hunt them out from under those peculiar views of orthodoxy, in which I found them entrenched" (from Chapter 18 "Revivals at Wilmington and Philadelphia" of his autobiography). "Is not My Word like as a fire? saith the LORD; and like a hammer that breaketh the rock in pieces?" (Jeremiah 23:29). Just as a farmer understands the cause and effect relationship of his reaping and sowing, Finney carefully demonstrated "what saith the Scripture" (Romans 4:3) to his hearers, that the Spirit of Truth would produce the "faith which worketh by Love" (Galatians 5:6). Especially believing that the resulting obedience came from the willingness of the hearer in conjunction with the effectual working of the Holy Spirit, Finney methodically explained what he meant and did not mean. Charles Finney spoke often of the Promised Spirit of the New Covenant in his articles published in the "Oberlin Evangelist". [See Timothy L. Smith's compiled and edited works of Charles G. Finney on holiness, "The Promise of the Spirit".] "I will put My Spirit within you, and cause you to walk in My Statutes, and ye shall keep My Judgments, and do them" (Ezekiel 36:27).

At one time, newly converted Finney received his pastor's permission to contradict the pastor's Hyper-Calvinism, just so that a Universalist lecturer could be refuted in public. And, to the relief and perplexity of Finney's pastor, the Universalist was effectively routed, while gaining the conversion of a young woman, who had been deceived by Universalism (from Chapter 4 "His Doctrinal Education" of his autobiography). "For them that honour Me I will honour" (1Samuel 2:30). About three miles outside of the western New York town of Antwerp, Finney preached at a schoolhouse where he spontaneously chose the text, "Up, get you out of this place; for the LORD will destroy this city" (Genesis 19:14). As he preached, the people became visibly angry; but, Finney energetically pressed home that their ungodliness was evidenced by their never having a religious meeting in that place. Suddenly, an awful solemnity settled down on the people, when they began to fall from their seats and cry for mercy. Finney began to circulate among the people preaching Jesus into the ears of individuals, until each came to terms with Christ. Only later did Finney learn that the place had been nicknamed Sodom, while the old gentlemen that invited him to preach was derided with the name Lot (from Chapter 8 "Revival at Antwerp" of his autobiography). "And thou shalt speak My Words unto them, whether they will hear, or whether they will forbear: for they are most rebellious" (Ezekiel 2:7).

Though Finney disliked sensationalism in his preaching, he believed in an honestly direct approach. "I always have pursued a different course. I have often said, 'Do not think I am talking about anybody else; but I mean you, and you, and you.' Further, I have often said to people, when I saw that they looked offended, 'Now you resent this and you will go away and say that you will not come again; but you will. Your own convictions are on my side. You know that what I tell you is true; and that I tell it for your own good; and that you cannot continue to resent it.' And I have always found this to be true" (from Chapter 7 "Remarks Upon Ministerial Education" of his autobiography). "But Wisdom is justified of all Her children" (Luke 7:35). And, "The fruit of the righteous is a Tree of Life; and he that winneth souls is wise" (Proverbs 11:30).

His later years were dedicated to training ministers and Christian workers at Oberlin College, and his "Systematic Theology" (1851) best reflects the foundation of his revival thinking. "True Christian consistency does not consist in stereotyping our opinions and views, and in refusing to make any improvement lest we should be guilty of change, but it consists in holding our minds open to receive the rays of truth from every quarter and in changing our views and language and practice as often and as fast, as we can obtain further information" (excerpted from the preface to Finney's "Systematic Theology"---New Window). "And thine ears shall hear a Word behind thee, saying, This is The Way, walk ye in it" (Isaiah 30:21). The "Memoirs of Charles G. Finney"-- now entitled, "An Autobiography"-- were published after his death. The editors affixed an epilogue to that 1876 publishing: "To set forth the results of his life in these [other] respects, would require another volume, which will probably never be written; but other generations will reap the benefits, without knowing the source whence they have sprung." And, the "path of the Just is as the shining Light, that shineth more and more unto the Perfect Day" (Proverbs 4:18).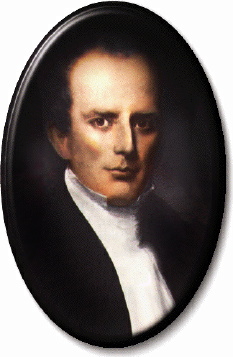 THIS LED ME TO PREACH in the Broadway Tabernacle, two sermons on Christian perfection. Those sermons are now included in the volume of lectures preached to Christians. In those sermons I defined what Christian perfection is, and endeavored to show that it is attainable in this life, and the sense in which it is attainable. But about this time, the question of Christian perfection, in the antinomian sense of the term, came to be agitated a good deal at New Haven, at Albany, and somewhat in New York City. I examined these views, as published in the periodical entitled "The Perfectionist". But I could not accept them. Yet I was satisfied that the doctrine of sanctification in this life, and entire sanctification, in the sense that it was the privilege of Christians to live without known sin, was a doctrine taught in the Bible, and that abundant means were provided for the securing of that attainment.

***
THE LAW OF GOD requires perfect, disinterested, impartial benevolence, love to God and love to our neighbor. It requires that we should be actuated by the same feeling, and to act on the same principles that God acts upon; to leave self out of the question as uniformly as He does, to be as much separated from selfishness as He is; in a word, to be in our measure as perfect as God is. Christianity requires that we should do neither more nor less than the law of God prescribes. Nothing short of this is Christian perfection. This is being, morally, just as perfect as God. Everything is here included, to feel as He feels, to love what He loves, and hate what He hates, and for the same reasons that He loves and hates.


from "An Autobiography"
and
from "Lectures to Professing Christians"

Click here to read this servant's writings. ---New Window

"So the LORD was with [C. G. Finney]; and his fame was noised throughout all the country"
(Joshua 6:27).